The subject is vast and a brief outline of the results on man will not meet our purpose. Of course, it is neither a statistical survey based on standard criteria, but rather a collection of success stories compiled for the sake of making people, even among the most sceptical, question themselves. Besides, there is evidence of cure in specific cases where biopsies have been conducted before and after treatment.
It must be recalled that the cure is absolutely indisputable and is replicable on mice of 20 grams affected with incurable cancers, on rats of 250 grams, and on cats and big rabbits weighing several kilos. The latter will therefore correspond to the weight of a new-born child and such a possibility by itself opens up to fantastic hopes since the treatment parameters are more or less the same for man and animals.
Naturally, healings among grown-ups are not systematic. Priore knew the reason why. The number of healings would have been countless if the great majority of patients calling for treatment had not been desperate cases, often in terminal phase; even at that point, if only the power of the equipment available to him had been commensurate with the weight of the body to treat (70 kgs for an adult compared to a cat of a few kilos, or a mouse of 20 grams, we need to multiply the power by 25 in one case, and by 300 in the other). Hence, we come to his last machine, the tremendous M600.
Due to restricted means, Priore was deprived of facilities to raise the power level of his devices. So, he opted for clever and complex adjustments in order to increase their productivity. Improvements of minor importance but so invading that the majority of observers were brought to believe mistakenly that they had an essential role in the process.
Moreover, it should be noted that all the scientists - indeed, the totality of them - who conducted major studies on Priore's works, and in particular a large number of biologists, doctors, university physicists, his day-to-day collaborators, were staggered and enthused by the quality and importance of the outcomes. Some did not hesitate to stand up and face hierarchical opposition, risking the label of "gullible fools". And one knows how disastrous it is to open oneself to ridicule in university circles.
Unhesitatingly, are outlined below some examples of "gullible fools" !! Be the judge:
- Gullible fool R. Pautrizel, Professor of Immunology, the best in France in his special field, WHO expert, he will give ten years of his life to show the immune mechanism of radiation. In lieu of reward, he will be deprived of his laboratory!
- Gullible fool Professor R. Courrier, reputable cancerologist, Chairman of the Science Academy, keen advocate of Priore, he used to work personally on the transplant of tumors and presented several papers to his assembly.
- Gullible fools - Renowned cancerologists who conducted the entire experimental work on the equipment. Cancerologists from Bordeaux (Pr Delmon, Pr Biraben), Paris cancerologists (Pr M. Guérin, Pr M. R. Rivière who will dedicate two full years to cancerology work in Priore's laboratory), cancerologists from the most famous anti-cancer Institute in England (Pr Haddow, Pr Ambrose).
- Another crowd of Gullible fools, all professors of Medicine at the Faculty of Bordeaux. Irrespective of any order, we quote G. Mayer who conducts histology studies on treated animals, Cambar, Dean of the Faculty of Pharmacy: he heads the medical commission in charge of validating experiments (with certified report! we've come to such an extent!).
- Discreet Gullible fool but not anonymous J. Bader, Professor of Medicine, influential expert and Director of INSERM - the prestigious national organization of medical research in France, he heads and coordinates the work of thousands of top researchers. He will be at work unflaggingly and in all discretion for the construction of the devices. He is currently supervising the works conducted by an important university team in Bordeaux - Out of an inclination for ridicule?
- Gullible also, a certain G. Courty, re-elected by his peers in medicine President of the "Conseil de l'ordre d'Aquitaine", an organization full of gullible fools as you may guess!! Professor Courty, together with Professor Dubourg, celebrity of surgery in Bordeaux, has wilfully published a study outlining spectacular clinical progress (tumor and adenopathies thawing, pains, general condition) and the biological betterment of about fifteen sick persons suffering cancers at terminal or outgrown point. Yet again, those physicians were in a position to present unexpected remissions and inexplicable healings.
- Last famous Gullible fool, A. Lwoff, one of the "fathers" of DNA theory, Nobel Prize of Medicine. Following an unbiased study of results, he will be one of the most ardent supporters of Priore, to the extent of claiming the construction of a machine in the prestigious anticancerous Centre of Villejuif in Paris; failing this realization, he will experiment in the very laboratory of Priore on the latter's ultimate device.
We are not yet close to the end of the listing... Beside the medical corps, the scientific, political and industrial world respectively are not outdone:
- Astonishing Gullible fool: J. Chaban-Delmas, Mayor of Bordeaux, Prime Minister, National political leader. Publicly and unceasingly supporter of Priore, the latter's apparatus was inaugurated by him; he used his authority to fight opposition from top officials concerning a funding allocation to the inventor. Overtly risking his career by some scandal about "Government funds to support quack" (the press would be merciless).
- Another assembly of Gullible fools: The Regional Council of Aquitaine. By unanimous vote of members, of all political leanings (whereas confrontation never ends in this assembly), approval to allocate two million francs just after Priore's death, in order to carry on the latter's works within the University.
- Still more incredible Gullible fool if ever possible, the firm Leroy-Somer, huge industry for the construction of electrical equipment, becomes Priore's associate and injects in this adventure an investment of ten million francs (1.5 million euros).
- Physicists are Gullible fools as everybody knows. Especially when they are lecturers at the Faculty, or government experts, and exert themselves to mobilize research in universities in order to fulfil the whims of Priore... Surely this must be the reason for their relentless efforts to understand and reproduce "The Machine", in Priore's time already, and also after his death. They carry on with the work, still.
- A special note with regard to the State Secretary for Research, other Gullible fool called J. Joussaut-Dubien, scientist of high calibre who mobilized his staff to finance non-official university researches on the Priore Effect. Still today, though in retirement, he maintains passionate ties with the advancement of these works.
- Well-known nest of Gullible fools: the Military Research departments have been active in their collaboration to the measurements of the machine and... Attempted a reconstruction of it for tehir own use (D.R.M.E. confidential report).
- The comprehensive list of Gullible fools will end with the C.E.A. (Commission of Atomic Energy). The CEA will place in secondment one of its most brilliant engineers and use its influence and enormous technical resources for several years, to participate in the secret construction project of a Priore apparatus at the University (it is in operation today without results). This was only a few years ago. They are so much naive at the CEA that some Gullible fools were still pursuing their efforts, fifteen years after Priore's death.
In short , among the sceptical, the great assailants of Priore, none of them actually worked on the subject!!! Nice illustration of Cartesianism and incisive judgment, yet so common throughout the history of revolutionary discoveries.
And finally, why trying to treat with contempt the opinion formed by hundreds of ill people, placed in a situation where medicine appeared to have been at the bottom end of its resources, and who unexpectedly found remission, annihilation of their sufferance and even sometimes, miraculous healing?
Once again, it is possible to understand the reticence of a large number of doctors who must deal with the terrible agony of their patients, to readily accept that a man, destitute and all by himself, could have succeeded where so many distinguished teams of researchers have failed. Moreover, so many times they have been confronted with quacks of all sorts, those whose reputation or good fortune are made out of an anti-medicine dogma. Those who speculate on the last hopes of people suffering from this incurable disease. However, our perplexity is more about the lack of intellectual curiosity from a few. After all, the information might not have been to the level of the discovery.


Back to healings, we must say that they are numerous and directed to a wide range of diversified pathologies that go beyond the cancerology field to integrate a rather vast sphere, that of the organism restoration system.
A law of "Self Preservation" does exist. It is the law of any living organism aiming at its safe keeping, in the best possible condition, as long as possible, protecting itself against any attack, any external or internal risk. It is therefore actuated to eliminate anything that does not belong to its true nature because a threat to its survival. Such a function is assigned to the immune system. Hence, begin the struggle and destruction process against all bacteries, viruses, foreign bodies but also, against any cell that does not conform, be it foreign (in the case of blood group or organ implant), unhealthy (cancerous cell), or sometimes simply a modified cell.
This immune system integrates itself and operates along with a more integral system of cell restoration targeted at the preservation of the organism integrity, a kind of permanent struggle against degradation, ageing and death. This restoration system seems to overpower the previous one in order to get the survival operation on track. From a biological point of view, it is equivalent to reflexes and psychological attitudes of what is called "survival instinct". This explains the closing up of a wound, a trifle in everyday life but an amazingly complicated process and no wonder a liver almost totally destroyed by hepatitis regenerates integrally (please note that some species are capable of regenerating a full limb, which is not more complicated than the liver, and that the human DNA has been able to keep the hidden memory of such mechanism).
These considerations give an explanation about various aspects of action by the "Priore fields" in a wide range of pathologies. All go as if it were a stimulation - or a collapse - of capacities of the conservation/restoration system and the cancerologic effects of which are not more than an application.
Effectively, in addition to results in cancer and infectious diseases, Priore can present successful achievements in areas as varied as rhumatology, bone tuberculosis, scar forming, pain abolition, normalization and collapse of excessive cholesterol levels (paper to the Science Academy), regeneration of organs, not genetically formed for such action (rabbit testicles, another paper to the Science Academy) as well as in various severe degenerative pathologies such as multiple sclerosis.
We are conscious that such a listing can be evocative to all those who have fallen a victim to the numerous quacks of cancer and other incurable diseases boasting about the miraculous proprieties of their methods and universal panacea. Yet that's how it is. By stimulating the restoration and preservation systems, the "field" permits to effect improvements in a wide variety of areas where cancer, as mentioned earlier, is only an illustration


Example : Before, we were totally unaware of the immunological nature of multiple sclerosis. Now it is known that it comes from a destruction of nerves by antibodies the organism manufactures against itself. The liability of a viral infection on a genetically predisposed organism is more than probable. This immunological element is the explanation to Priore's unexpected successes against the disease when we establish a relation with the radiance action mechanism.
Another very significant example : Normalization of cholesterol level. Although the study has not been conducted on a human being, it is referred to on the basis of outstanding similarities.
Experiments take place in an experimental lab (INSERM unit) at the Faculty of Medicine of Bordeaux under the supervision of cardiologists among the best from hospitals.
Rabbits fed exclusively on fat are shown with an excessive level of cholesterol. Under radiance action, this level gets far below that of a normal animal. The lowering effect is maintained several weeks after treatment has stopped and despite a high cholesterol diet. Results are confirmed by the sacrificing and examination of the big arteries which indicate a regression of atheroma blotches (vessels are obstructed by them) formed by hypercholesterolemia! As outlined in a Paper to the Science Academy ( C.R.A.S. dated 20/12/71 tome 274, pp488-491, 17/01/72).see Bibliography
At that time, as in the case of multiple sclerosis, the role played by immunity was unknown, particularly the cell immunity which is called macrophage in the regulation of these blotches (the way a sanitation man operates).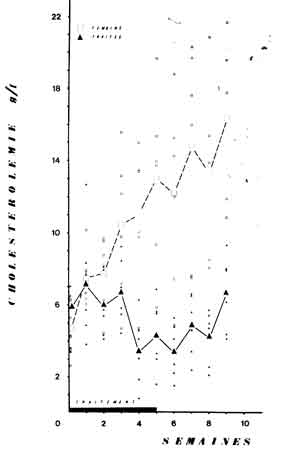 Increased level of cholesterol in a rabbit on fat diet, with or without treatment
It must be acknowledged, therefore, that the organism is endowed with unsuspected resources, and to intervene in this particular line opens up onto fantastic therapeutic perspectives. It takes no more than a review of initial results in the use of "root cells" capable eventually of regenerating any type of organ. Only ten years ago, the mere allusion to their possible existence outward certain organs, or mentioning their extraordinary potential, would be enough to have any Med student expelled from the Faculty. Meanwhile, a study on root cells and their properties had been described by a well-known American researcher, Dr Becker, who was persecuted for having been right, too soon.
In the field of cancer itself, a distinction is to be made between (a) results that Priore obtained on animal cancers and which were constant, replicable and carried out under the direct supervision of biologists and physicians, and (b) his successes on humans, failing to meet the standards of methodology practised in that field. For instance, there is no double blind experimentation, nor any statistical argument.
The accumulation of results, unexpected remission of cancers in terminal phase, authentified healings based on pre and post treatment biopsies (several examples will be produced), considerable soothing or disappearance of pains, constant improvement in general condition, systematic relapse after remission in case of premature interruption of treatment, unanimous testimonials of satisfaction, all of the above form the basis of argumentation. And yet, what forceful arguments!
Let us recall, one last time, that Priore was solicited generally when all other therapeutics had been exhausted, "just in case", and at a dramatic point of the disease. Patients were found in so severe condition that there was barely any hope. The inventor was not fond of therapeutic archives, having a preference for treatments. In addition, medical files were the property of either the hospital or doctors, and so were rarely directed to Priore who, besides, was not at all bothered by such a situation. However, several cases of healings supported by biopsies (microscopical exams) can be withdrawn from the archives. According to Professor Pautrizel, physician of great integrity, there are tens, indeed thousands of dossiers of the sort.
As a first example, the case of Gaston R. In 1955 the microscopic analysis report of a biopsy of the larynx is formal: Epithelioma (Dr Biraben, Report No. 72741 of March 10, 1955). It is a laryngeal cancer at initial stage. The patient refuses surgery in order to receive the "Priore treatment" during two months. New biopsy: mere hyperplasia, which means a benign cell anomaly (the difference is the same between a hyperplasia of the uterine mucous membrane which is cured by hormonal treatment, and a uterine cancer with therapeutic results easy to guess), but in no case a cancer. In other words, the treatment has transformed a cell affected with cancer into a healthy cell to watch. A slight variation but a big difference: in one case, there is cancer, in the other, none.
Besides, all the elements in this matter and particularly the microscopical veterinary observations reveal that the Priore field permits, at an early stage of the disease, a "neoplasic reversibility" of the cancerous cells. Which means, as noted as early as 1960 by physicians of the anticancerous centre in Bordeaux, that "everything goes as if those cells had lost their cancerous characteristics. In some way they are back to normal, and if, for the immune system, they are not, it will work at their elimination."
N.B. : This phenomenon of neoplasic reversion is found in therapeutics of some types of leukemia where monstrous leukocytes (white corpuscles) come back to normal size by the action of certain medicine.

The second example is dated 1954. It concerns a 12 year old boy, Alain B. Conclusion of the microscopic analysis of samples: malignant reticulo-sarcoma. All doctors know that it is a death warrant in the very short term. A dreadful cancer of the lymphatic system (c.r. No. 1322421, Dr Angibeau, Saintes Hospital, Charente). In spite of this awful verdict, the teenager benefiting from the Priore treatment, will be totally and definitely cured from this terrible disease to the extent of receiving from his doctor, twelve years later in 1966, a certificate confirming the absence of chronic illness (Dr J. Moulinier).
The third example - and it will be the last - comes from Professor G. Courty, Chairman-to-be of the Regional Council of Aquitaine (Ordre des Médecins), Head of the Pneumology Department, physician of integrity and hardly likely to be suspected of collusion. He strongly believes that Priore, maybe by chance, has come across something very important and with the courage of his convictions makes a declaration thereon in the media.
With a stronger will, he publishes along with Pr. Dubourg, the Bordeaux referent as far as surgery is concerned, a study about a dozen cases, the majority from his department. It must be pointed out that it was quite exceptional to make such a move in the medical and university environment where permanent judgment on peers and the medical ethics impose extreme precaution and the observance of stringent lines of action. Risking to irremediably compromise his career, he addresses a report to the Science Academy, on case studies of a dozen patients, all of them presenting inoperable, incurable, terminal cancers.
The first seven cases deal with lung cancers. There is confirmation of a systematic improvement of the general condition, which doctors consider outstanding. The patients start eating heartily, are back in strength and on foot, feeling no more pain.There was simultaneously an improvement of the V.S. (witness test of the organism inflammatory level) and of the N.F. (test to determine anaemia associated to cancers). They are able to receive treatment one hour only per day (very much insufficient at this stage) and will die peacefully.
The following are even more puzzling cases especially being incurable ones.
- Mr T. - Inoperable and advanced lung cancer: Discreet chemo uneffective on tumor (this treatment alone has never cured such a cancer at that level). The "Priore treatment" is applied several hours daily. Results by the eighth month: Thawing of mediastinal adenopathies (enormous masses of ganglion tied up to the cancer causing rapid death by suffocation, and killing even more rapidly than the tumor). Twenty months later, that patient who was lost is living very comfortably despite his slow-growing tumor.
- Mrs T. - Had surgery in 1977 for brain tumor recurrence: Confirmed by biopsy (astrocytoma meaning a dreadful tumor, totally incurable). Attempts to slow down its evolution by chemo and radiotherapy. Total failure. In February 1978, faced with the imminent fatal outcome, "Priore treatment". About two years later (the document is drafted in December 1979), this patient considered lost is still alive!
- Mrs D. - Advanced rectal cancer: Objects to traditional treatments. Cancer reducing by half with "Priore treatment". Relapse with fast aggravation during a three-week breakdown.
- Mrs D. - Inoperable vaginal cancer: Expanding to the bladder. Shrunk by half after five weeks of "Priore treatment". Considerable improvement of general condition. Despite everything, resumption of tumoral development after three months. The treatment, like the lung cancer cases mentioned above, will do no more than putting off the fatal date yet permitting a much better comfort.
- Mrs P. - Very adhering rectal cancer, Refusing surgery, she is condemned. In spite of a palliative radiotheraphy (by which healing a cancer at such point is absolutely impossible), tumor aggravation. We are in 1977."Priore treatment" everyday during nine months. Complete disappearance of tumor. Several negative biopsies in 1979. Doctors conclusion: HEALING.
Those few cases are far from being the most illustrative. Furthermore, they are all about overgrown cancers. Let us just think about what could - and what would - have been done, had the cancers been much less advanced (besides it is not at all prohibited to associate with other conventional treatments the "Priore treatment" which appears to be a strengthening tool. See chapter below). We have chosen to report on them because they come from highly qualified university sources and the mere fact that physicians of that level commit themselves tells a good deal about all the seriousness and importance of Priore's results.
Our final word will be the conclusion of this prominent medical team :
"We are fully convinced that it is an innovative scientific method against cancer"